Alibre Design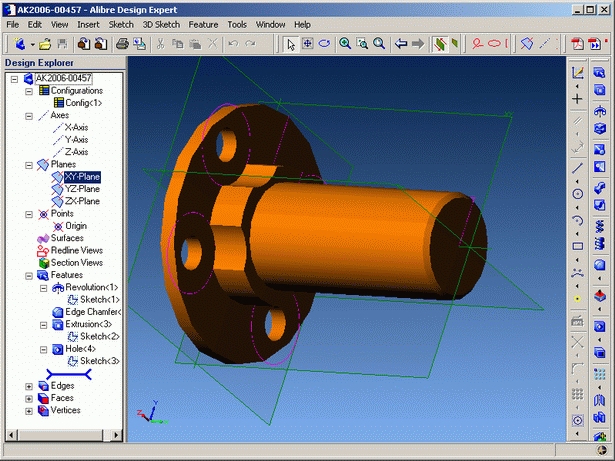 Alibre Design easy to use low-cost 3D CAD parametric modeler.
Alibre Design includes all essential tools for 3D modeling and drawing creation. The programme is distinguished by its clarity, simplicity, transcendental operating and of course affordable price.
If you are looking for basic 3D CAD modeling, opt for Alibre Design.
Alibre Design is a product of American companies Alibre, Inc. Software is available in 3 basic versions: Alibre design staff, Alibre Design Professional and Alibre Design expert. For summarized comparison tools please visit "Comparasion of versions".
The current version of Alibre Design is a version in 2012, takes advantage of annual technical support and you will always have the latest version including all novelties
Alibre Design Basic tools allow inter alia:
3D parametric modeling of solids in Alibre Design:
Parts and assemblies

Parametric modeling and drawing

Recognition crash

Steering geometry table - driven (xls)
Advanced modeling tools in Alibre Design:
3D sketch

Boolean operation (addition, subtraction, penetration)

Areal tools

Shell etc.
Advanced features of the drawing:
Associative parts list

Interrupted look view

Cuts

Details

or partial auxiliary view
Data exchange Alibre Design with by other systems in sizes:
3D PDF Publishing (3D PDF outputs in 3D)
Example 3D pdf file from the exported file into Alibre Design Adobe reader